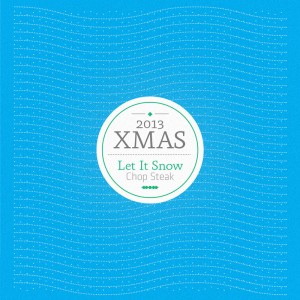 Another year is past, and that means it's time for another edition of the Chop Steak Christmas Mixtape.Thanks to everybody involved with this one: Abe Garcia, Tasha Johnson, CreSandra and Mic Flo. Check for "F.L.Y.: Forgetting Lost Youth" by Mic Flo, with production exclusively by your's truly, this January.
Hit the skip to stream, download and see a track listing. And pass it on to your friends.
Happy holidays, everybody.
Download: [download#14]
Track List:
Intro (Instrumental by Chop Steak)
Mayer Hawthorne – Back Seat Lover
Daft Punk – Get Lucky (f. Pharrell)
A$AP Ferg – Shabba (f. A$AP Rocky – Cookin' Soul Remix)
Nipsey Hussle – Don't Forget Us (f. Dom Kennedy)
Schoolboy Q – Yay Yay
King Chip – Blk On Blk
Janelle Monae – Prime Time (f. Miguel)
Ciara – Body Party
The Kid Daytona – Shotgun
Machine Gun Kelly – Peso (f. Pusha T)
Juicy J – Talkin' About (f. Wiz Khalifa)
Devin The Dude – Rollin' (f. Freddie Gibbs & Killa Kyleon)
Casey Veggies – She In My Car (f. Dom Kennedy)
F.L.Y. Promo-lude
Mic Flo – Spasiba (produced by Chop Steak)
Action Bronson – Strictly For My Jeeps
Young Dro – Strong
PJ Morton – Only One
Curren$y – Grizzly (f. Young Roddy)
Freddie Gibbs & Madlib – Harold's
Austinterlude
Goodie Mob – Special Education (f. Janelle Monae)
Hollywood Floss – Brand New (f. Jackie Chain)
Earl Sweatshirt – Molasses (f. RZA)
Jahlil Beats – Cruisin' On Red Leather (f. Ab-Liva)
Tuxedo – Get U Home
Oddisee – Ready To Rock
Run The Jewels – Get It
Yo Gotti – King S— (f. T.I. – Chop Steak Remix)
Pusha T – Nosetalgia (f. Kendrick Lamar)
Kanye West – Bound 2 (f. Charlie Wilson)
Robin Thicke – Blurred Lines (f. The Roots & Jimmy Fallon – Live)